American technology company Tesla has launched sales of its new solar roof.
The roof is made of glass tiles that can collect energy from the sun. The tiles were designed to make the roof look similar to those on traditional homes.
Some of the tiles have solar cells inside that take energy from the sun and turn it into electricity. All the tiles look the same and the solar cells are invisible from the street.
Tesla founder Elon Musk says his goal was to create a solar roof that looks better, costs less and lasts longer than non-solar roofs.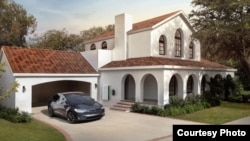 The tiles are three times stronger than non-solar tiles, and weigh half as much, according to Tesla. The company is guaranteeing the tiles for the whole lifetime of a home.
The company estimates the cost of installing a solar roof on a 240-square-meter home would be about $69,000. Some industry experts have noted this estimate is much higher than for a roof made from traditional materials.
But Tesla says a solar roof will actually cost less over time because it can reduce or get rid of electricity payments. The government also reduces taxes for some people using solar technology.
"When you think of a sustainable energy future, you want roofs to be beautiful and generate energy from the sun," he said. "That energy can then charge Powerwalls and electric vehicles – that's the future we want."
Roof installations are set to begin in the United States next month and will start in other countries next year. Tesla Launches Sales of 'Invisible' Solar Roof