Don't forget your sunglasses. Or your ski goggles. It's the brightness you notice first, walking down Exhibition Road towards what used to be a dowdy side entrance to the Victoria and Albert Museum, a white glow backlighting the Portland stone pillars of a reinstated 1901 screen, walls between the column bases having been removed for greater permeability.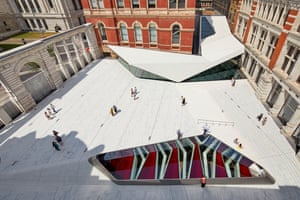 Through the screen and into a new courtyard the light becomes on a sunny June morning blinding, bouncing around the ceramic paving and ceramic roof of a new structure.
The light announces as clearly as possible the intention to open up and be accessible, to subvert and infiltrate the lugubrious masonry of the museum's existing buildings, to animate both them and the reluctant avenue that is Exhibition Road, to brighten dull winter days. Accessible of course is what all modern museums want to be. With the V&A's new development it's specially important, as the main object of the project is to create a venue for the ever more blockbustery blockbuster exhibitions (Bowie, McQueen, Pink Floyd), with their hundreds of thousands of visitors, that are now a vital part of their operations.
With their audience numbers and their back-of-house, their requirement for wide-open interior spaces, their tech paraphernalia, the get-in and the get-out of their articulated trucks, these places now resemble music venues. At the V&A, because there was nowhere else for it to go, this engine of spectacle has gone 15 metres underground, plus another 50 metres of concrete piling. Employing what is now a Kensington vernacular of mega-basements, it had to be inserted alongside the masonry, mountainous but fragile, of the Grade I-listed older buildings, the museum meanwhile remaining operational.
The ingenuity of London-based Amanda Levete Architects, who designed the Exhibition Road Quarter, as the new works are called, is therefore dedicated to taking crowds in, down, through, up and out, to making the colossal concrete cave not oppressive, and bringing the old and the new happily together. Exhibition Road Quarter: the V&A digs deep | Art and design | The Guardian