If you enjoy the outdoor life, complete with barbecues, good food and great company, you can create the perfect setting in your own backyard. What you need is an outdoor kitchen that will allow you to cook and barbecue whenever you want, in the company of your guests and with all the tools you need at your fingertips.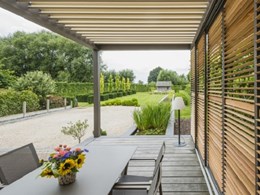 A well-planned outdoor kitchen helps you experience all of life's little gourmet pleasures outdoors, but still in the comfort of your home and the privacy of your garden.
Installing an outdoor kitchen requires a lot of planning and will not happen overnight. Renson offers a few tips on how to maximise the use of your patio or outdoor space and create a great outdoor kitchen that you can use throughout the year, come rain, shine or snow.
Your outdoor kitchen will need a roof or patio cover, without which you will be at the mercy of the weather when you entertain. You don't want the weather to play spoilsport and ruin your outdoor cooking plans; besides, without a proper cover, your kitchen will quickly become dirty as well. You can also choose a louvered canopy.
Make sure there's plenty of seating under the patio cover. When you have company, you need a place to relax and enjoy your barbecue. Designing and installing an outdoor kitchen | Architecture And Design